The magical island of Palm Beach brings to mind pink stucco, green palms, azure skies, and blue waters. These colorful natural surroundings, paired with a lifestyle of carefree relaxation, make for wonderfully whimsical designs in the garden. Think highly decorative and glamorous, yet playful. Here are some key elements of vivacious Palm Beach Style in the garden.

1. Outdoor Living
The tropical Palm Beach climate encourages outdoor living and dining, blurring the lines between indoor and outdoor living and decor. Versatile outdoor furniture with high style and comfort, on par with the quality of indoor decor, is de rigueur for year-round outdoor living and entertaining. Covered verandas protect from the sun and create elegant outdoor rooms for this sun-kissed lifestyle, allowing for flexibility in furniture and decor.
Inspiration: Kips Bay Decorator Show House Palm Beach.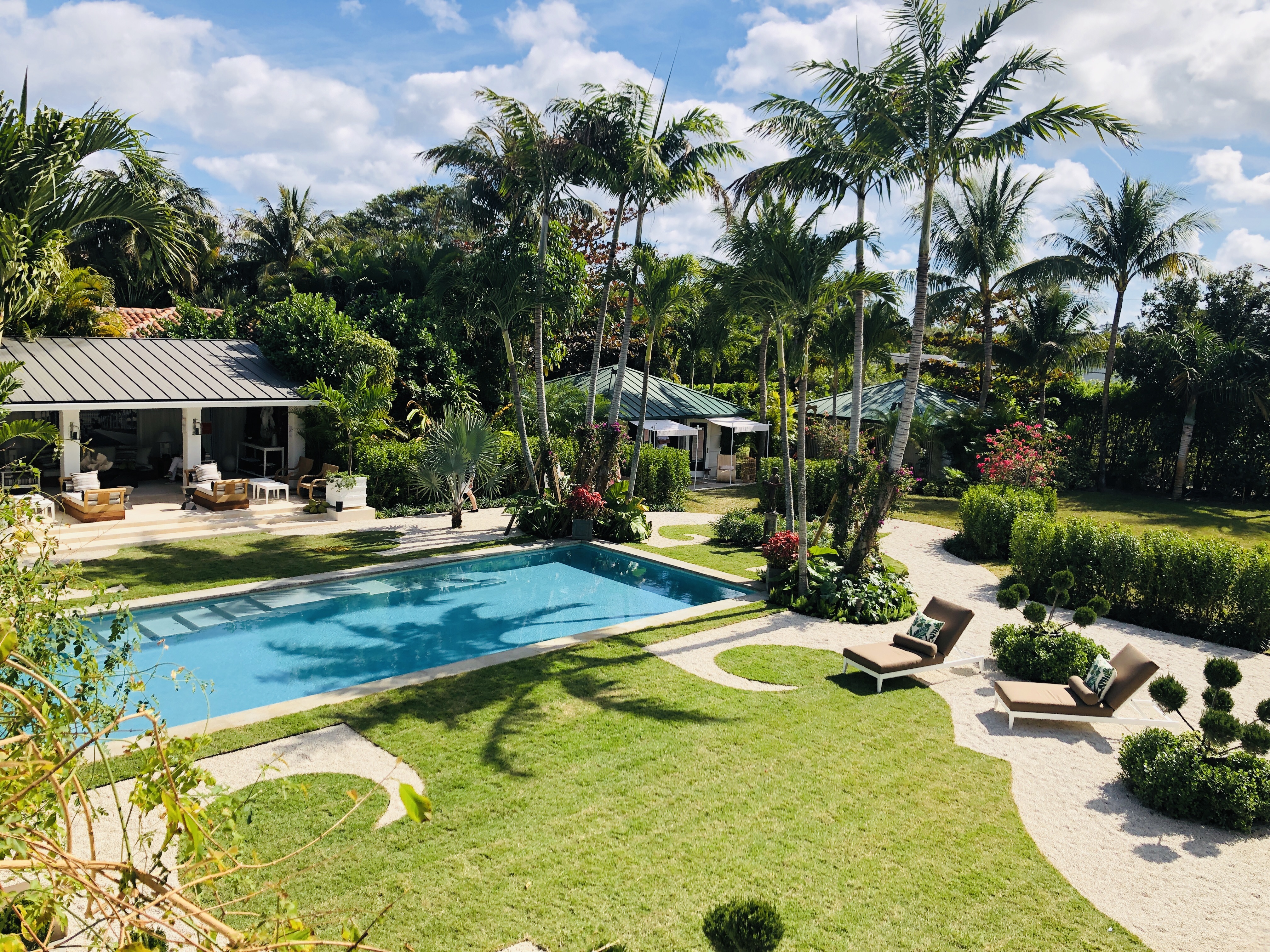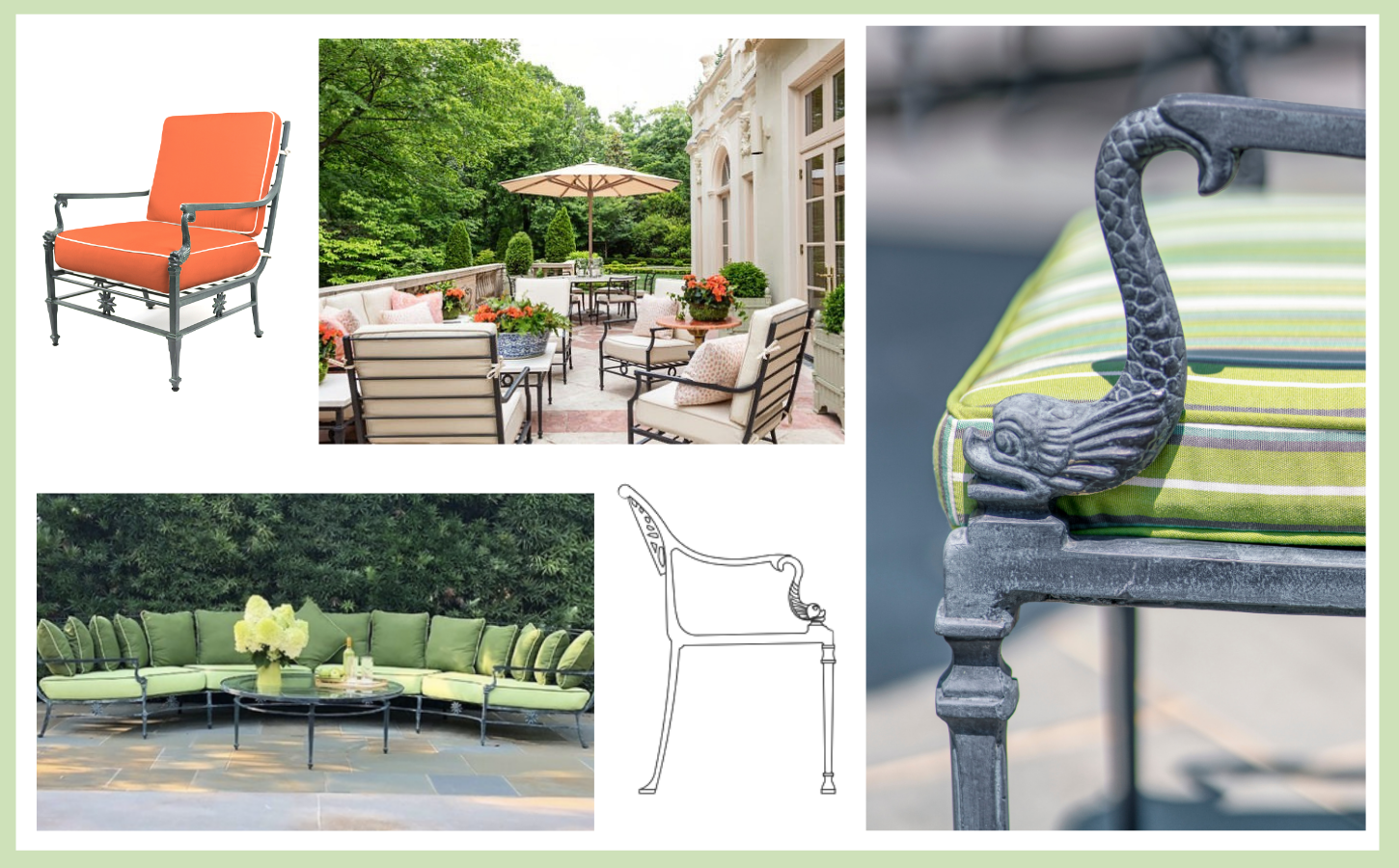 Shown above: Dolphin Arm Grand Chair, Neoclassical Grand Chairs, Custom Sectional Sofa, detail shot of the Star and Dolphin Chair.
2. Sea Motifs

Inspired by oceanfront living, motifs from the sea are a popular accent in Palm Beach style. Outdoor furniture and garden elements such as statuary, fountains, and urns offer glimpses of these motifs. In this example that personifies Palm Beach style, playful seashells and seahorses adorn dining chairs on the veranda of the Estee Lauder estate, overlooking the Atlantic Ocean. The retro pink painted finish reinforces the breezy, carefree lifestyle.
Inspiration: Estee Lauder Estate shell-motif furniture. Photo Credit: Scott Frances for Architectural Digest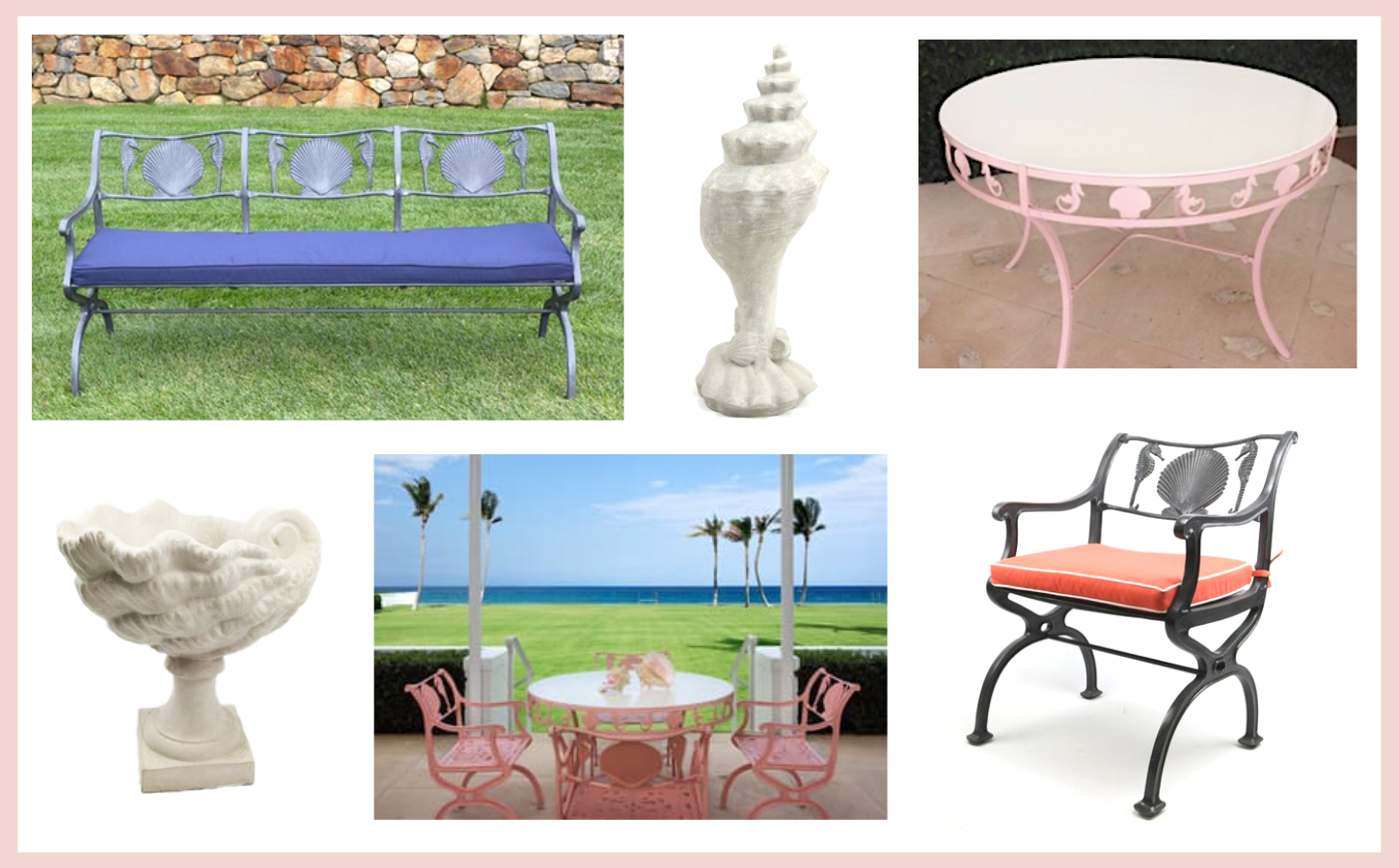 Shown above: Seahorse and Shell Triple Settee, Conch Shell Finial, Custom Seahorse and Shell Round Table in pink, Shell Urn, Custom Seahorse and Shell Dining Set in pink at Estee Lauder's Estate in Palm Beach, Seahorse and Shell Arm Chair.
3. Flora & Fauna
Creatures from nature abound throughout the vias and courtyards that dot Worth Avenue. Majestic horses, playful monkeys, raj elephants, and stately lions are elements of the classic Palm Beach style repertoire. Fanciful yet classical, these motifs reinforce the reverence for history with a twist that exemplifies Palm Beach vernacular in garden design.
Inspiration: Architect Addison Mizner's 1929 Fountain in Memorial Fountain Park, Palm Beach.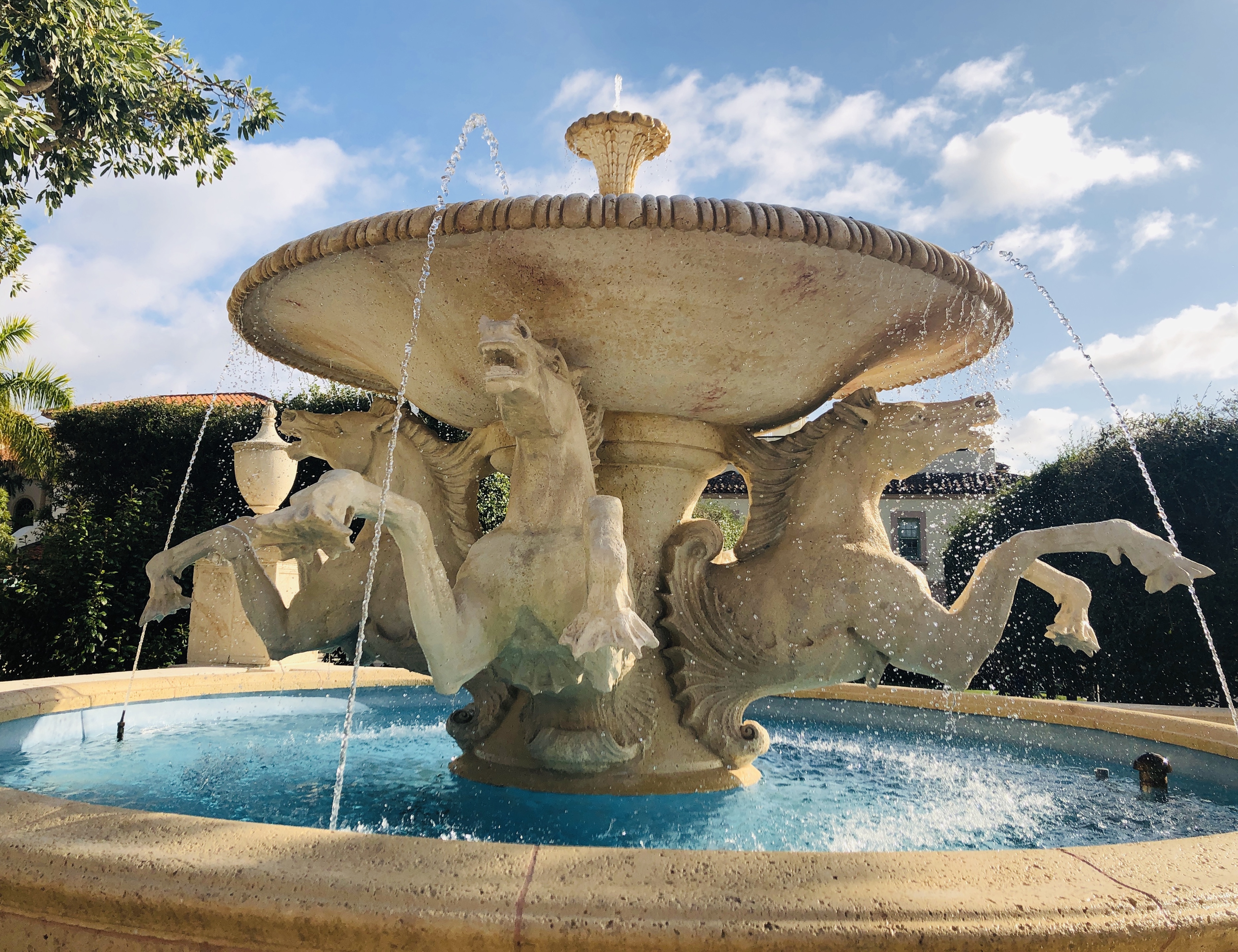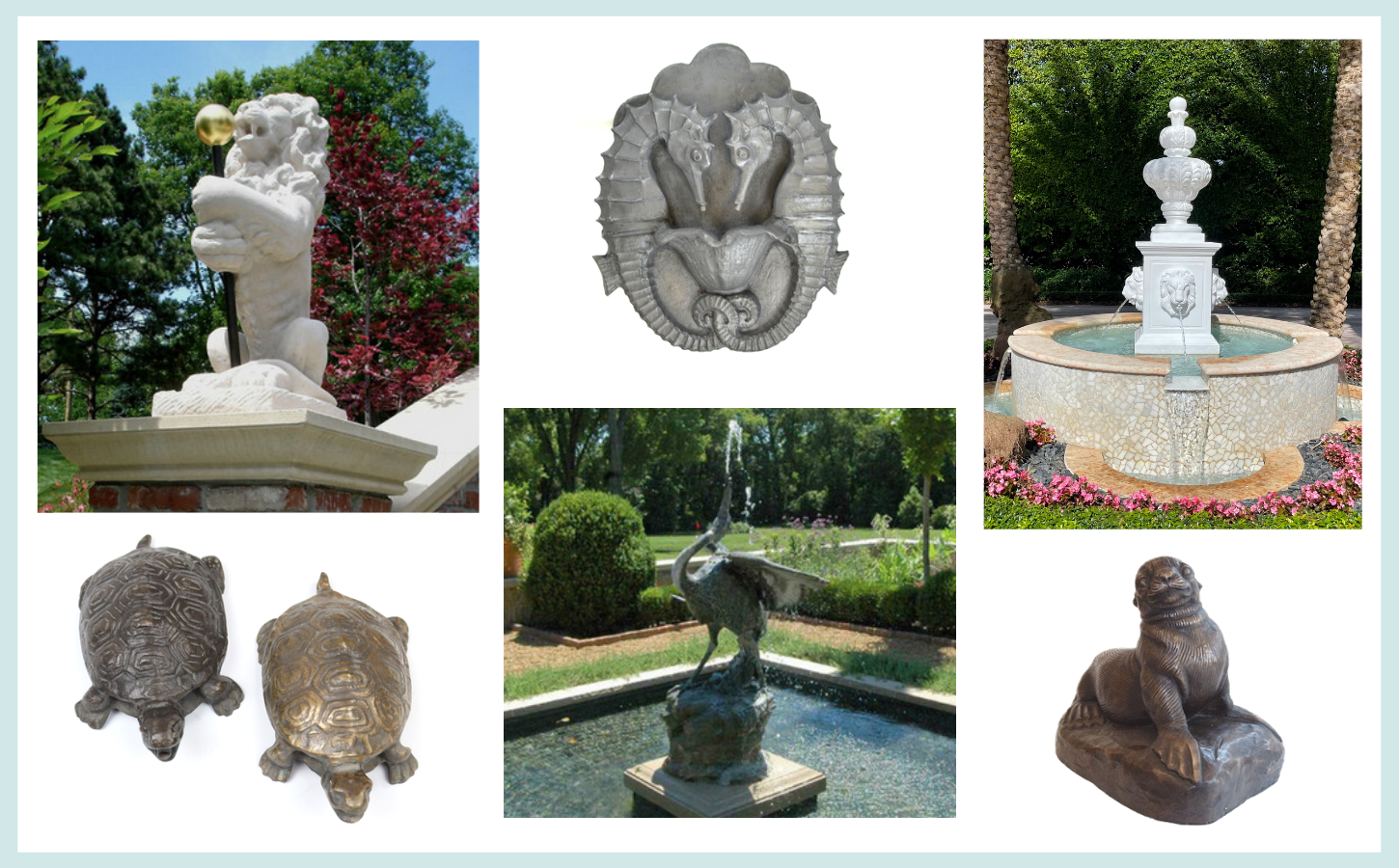 Shown above: Lion with Orb, Seahorse Fountain Plaque, Acanthus Finial with Lion Masks, Lead Turtles, Lead Crane Fountain, Lead Baby Seal.
4. Classical Motifs

Elements from Greek mythology reinforce the classical inspiration of Palm Beach style. Romantic European-inspired courtyards are adorned with classical fountains and statuary that make time seem to stand still. Many Palm Beach historical estates are designed in the Spanish and Italian styles that work so well in the warm, sunny climate. Gardens are adorned with classical statuary and fountains that complement the residential architecture, creating a seamless design from indoor to outdoor living.
Inspiration: Famous Piper Fountain, Via Amore, Palm Beach. Photo credit: LuxeRecess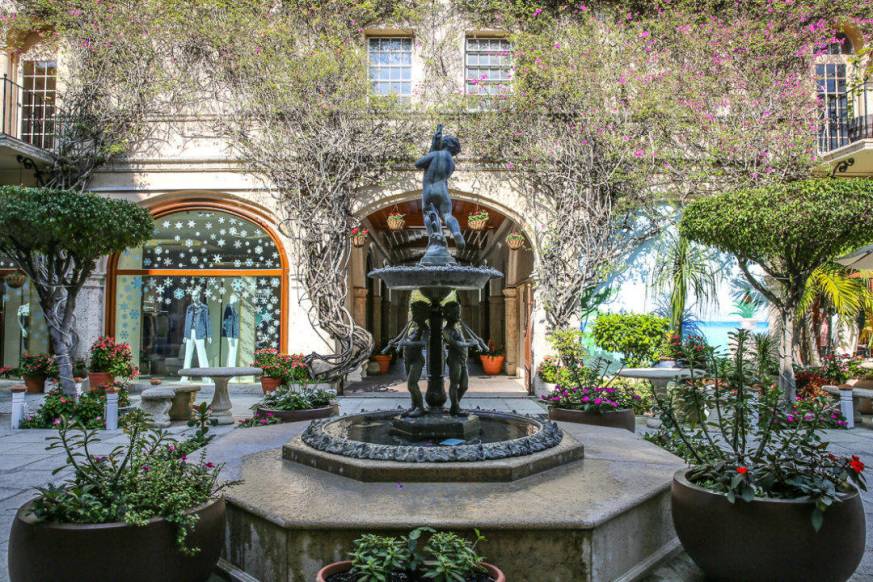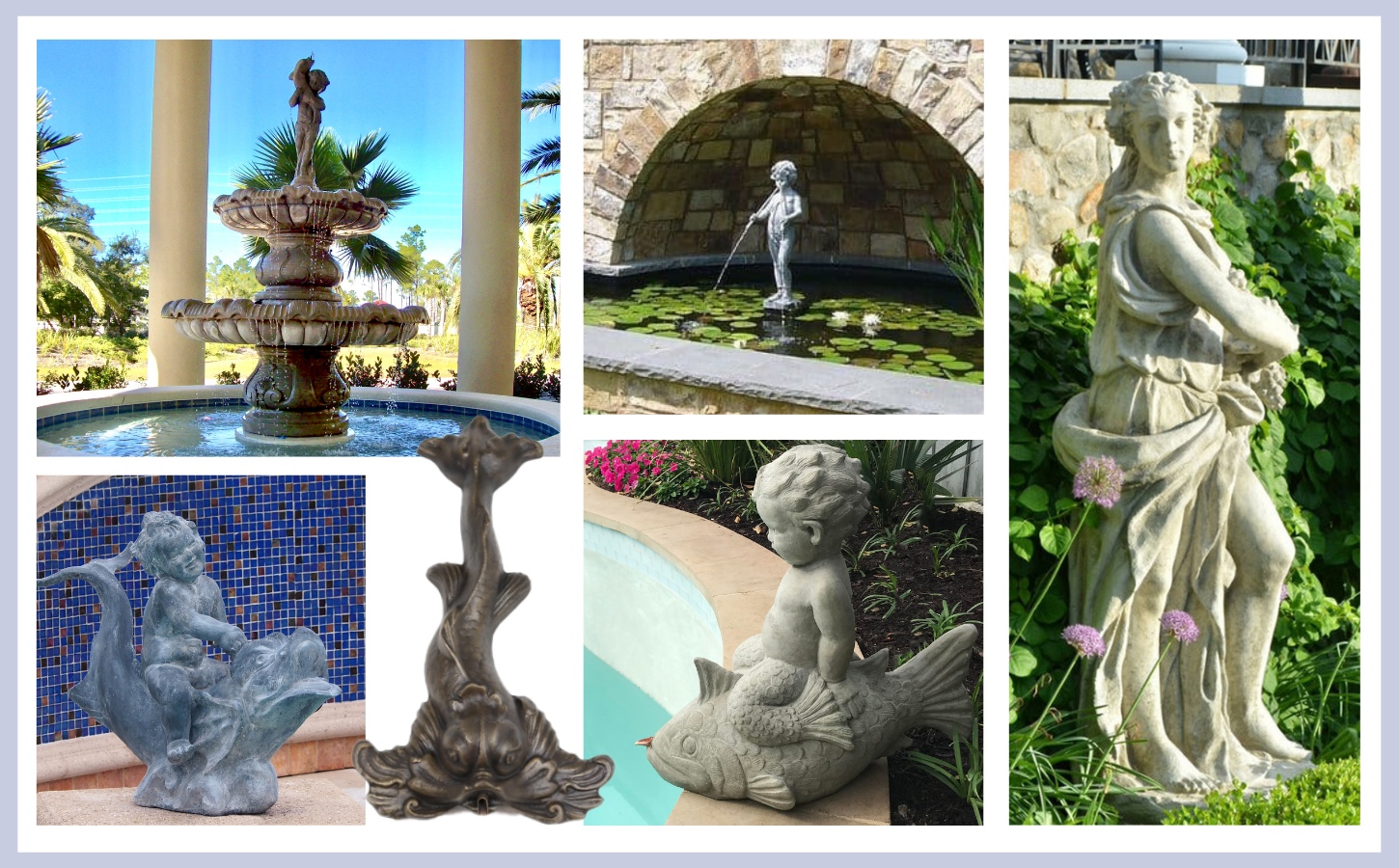 Shown above: Classical Tiered Fountain with Boy and Dolphin, Piper of the Garden Fountain, Boy Riding Dolphin in Lead, Grotesque Dolphin, Mermaid Boy Riding Fish, Classical Four Seasons Statue.
5. Chinoiserie

Chinoiserie focuses on subjects that were thought by colonial-era Europeans to be typical of Asian culture. This is a popular style in the playful, colorful, tropical decor of Palm Beach, both indoors and out. This fanciful and opulent interpretation of asian motifs is seen in whimsical animal statuary, exotic pagodas, and lanterns - elements that lend themselves perfectly for lavish outdoor entertaining.
Inspiration: Hutton Wilkinson's Garden. Photo credit: Veranda Magazine

Shown above: Japanese Lantern, Cast Stone Monkeys, sketch of Japanese Lantern, Moroccan Bench, Burmese Elephant, Foo Dog Statue.
Explore More
For inspiration on creating your perfect Palm Beach style garden, view our Florentine Classics furniture lines and Estate Elements collection of garden ornaments. For inquiries about custom pieces, please contact us at info@klynchandsons.com.
Top image: Fountain featuring Acanthus Finial with Lion Masks at a Palm Beach Estate.