Every year, Kenneth Lynch and Sons is honored to work with homeowners, designers, and landscape architects to create beautiful outdoor spaces. Our team applies their extensive knowledge of our products and industry experience to select the perfect products and customized solutions for each unique client project.

From custom fountains and cisterns, to large park seating projects and working one-on-one with our clients on custom outdoor furniture designs, we are proud of every project and appreciate the creativity of our clients. Take a look at some of our completed projects over this past year!
Rosette Wall Fountain
Private home in Kennesaw, GA

The designer working on this classic southern home garden selected a simple Lead Rosette to create this charming wall fountain. The custom copper spout directs the water into the ornate Cast Stone Wall Bowl, which then overflows into the basin below for a soothing effect.
Design by: Viridis Garden Design Inc.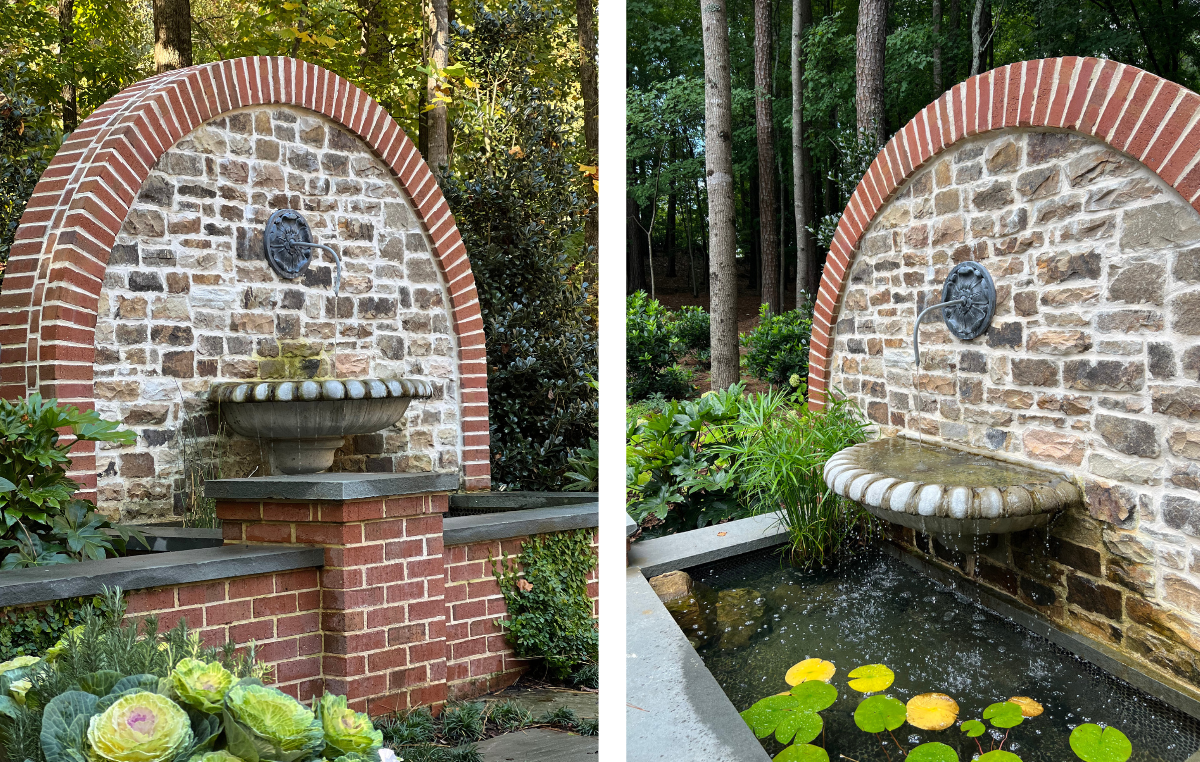 Lead Rosette (Item 1656) and Cast Stone Wall Bowl (Item 4815-44)
Lead Frog Fountain
Private home in Ridgefield, CT
This Lead Frog Fountain is detailed with four ornate frogs sitting along the edge of the bowl with the water overflowing into the lead basin. The landscaping was finished in 2022 allowing the lush greenery to fill in around the fountain area. Our lead fountains are very easy to install as most of the parts arrive fully assembled. After placing the basin, it is just a matter of stacking the center piece, filling with water, and starting the pump.
Design by: Craig Studer Design Associates

Lead Four Frogs Fountain (Item 2843) and Lead Basin (Item 1503)
World's Fair Benches at the Richard Gilder Center
American Museum of Natural History in New York City

We are happy to see this park project come to fruition! This project included designing and installing a series of our popular 1939 World's Fair Benches at the Richard Gilder Center at the American Museum of Natural History in New York City. The unique landscape called for linear rows of benches lining curved walkways. Our team needed to create detailed layouts and precision preparation to ensure that the benches align perfectly with the walkways.
Design by: Reed-Hilderbrand LLC with Northbrook Contracting Corporation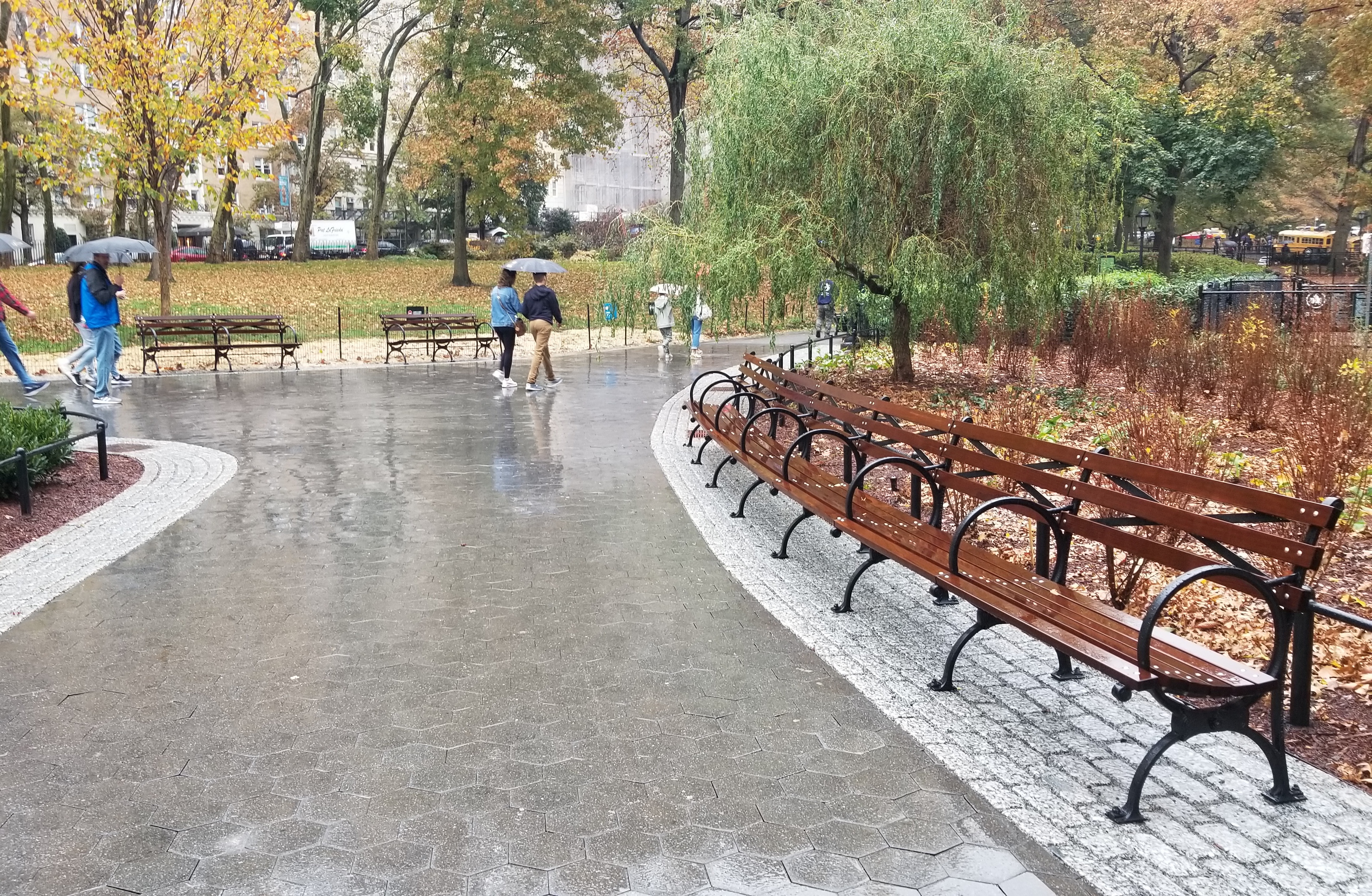 1939 World's Fair Benches (Item 6737)



Dining Chairs with Custom Finish
Private locations in Charleston, SC and Bahamas
Our Florentine Classics collection of outdoor furniture is exceptional in the industry in that we offer a variety of details that add a personal touch to each piece. When approached by esteemed designers B. Berry Interiors and Michael Smith for different projects, we were able to personalize a set of these gorgeous Seahorse and Shell Dining Chairs with a Sherwin Williams 'Hopeful' Pink and Benjamin Moore 'Scenic Drive' Green finish respectively.
Designers: B. Berry Interiors and Michael Smith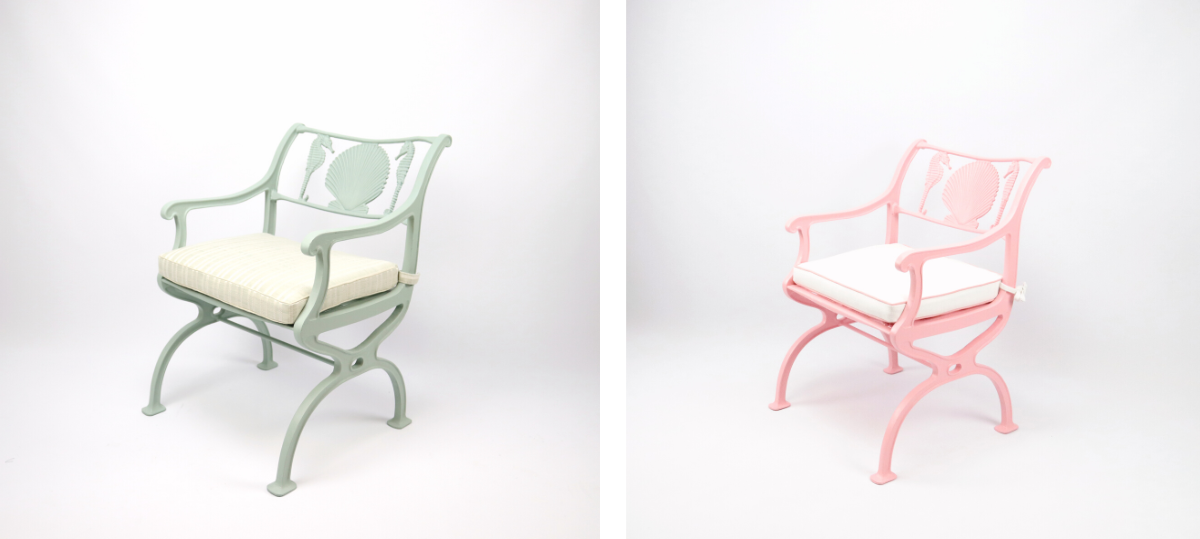 Customized Seahorse and Shell Dining Chairs (Item FC15)



Custom Wall Fountain
Private residence in Ridgefield, CT
This low profile wall fountain was custom designed to beautify the staircase leading to the pool area at this private residence. Our team worked with the homeowner to create this design which includes ornate rosettes in two sizes, the fountain bowl, and the basin all in lead. The area behind the fountain allowed for the plumbing to be easily hidden while still being accessible. We also worked with the homeowner on a set of outdoor furniture pieces for the pool area, including glass top table, chairs, chaise lounges, and side tables.
Design by: Craig Studer and in collaboration with the homeowner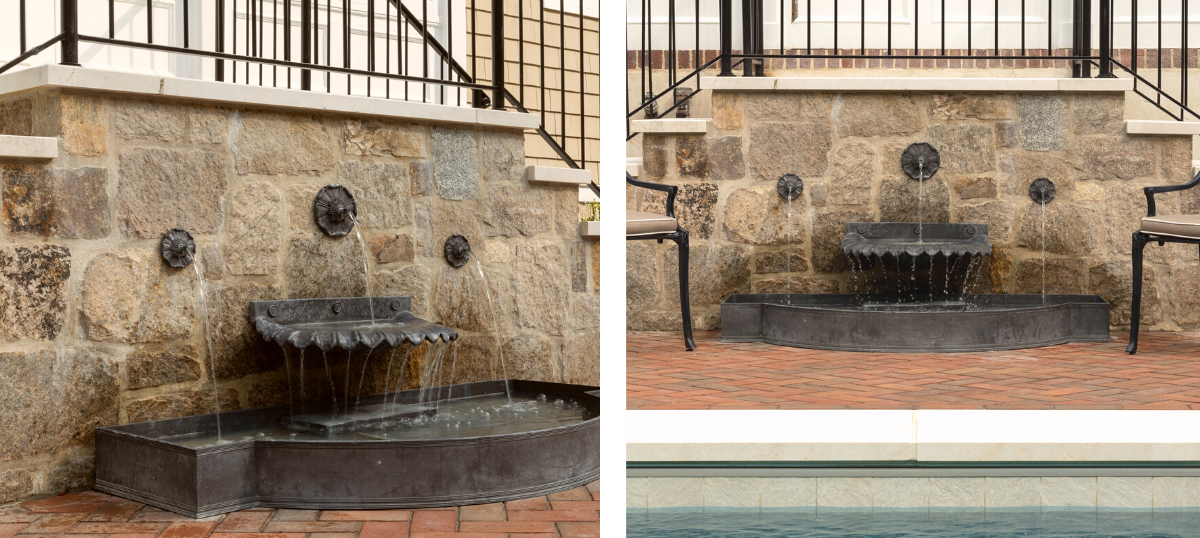 Lead Rosettes (Item: 683), Lead Fountain Bowl (Item: 2414), and Lead Basin (Item: 2351)



Ornate Wall Fountain
Private estate in Palm Beach, FL
This fountain was a unique request for our team, as the client was looking for a very simple but oversized design. The client opted not to add a center ornament such as a lion mask or rosette, creating a clean and simple look for this private estate. The final design of the Lead Wall Fountain (Item: 2929) ended up being 56" tall by 31" wide and fits beautifully on the garden wall. This fountain also includes custom scuppers in the edge of the bowl to direct the water into defined rivulets.
Design by: Nievera Williams Design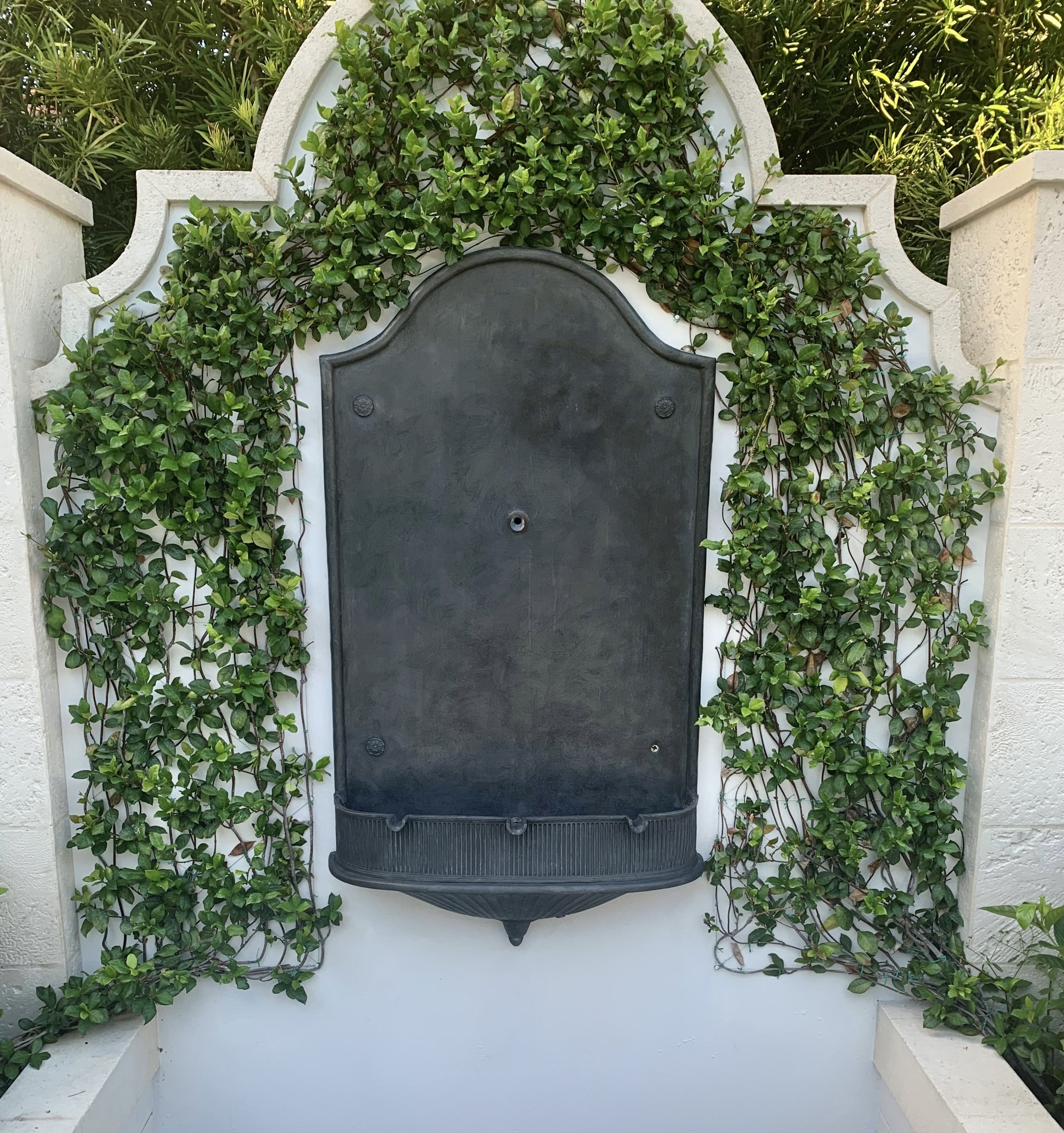 Lead Wall Fountain (Item: 2929)
Custom Lead Cistern
Private residence in Greenwich, CT
We are fortunate to have a large catalog of molds which designers can select from to create unique arrangements! The designer of this new seating area in a private residence requested this unique banded fleur-de-lis motif for the custom lead cistern, which replicates the original cistern placed in the portico at this property over 15 years ago. The cistern was delivered recently and awaits installation on the exterior of a stone chimney wall.
Design by: Martha Baker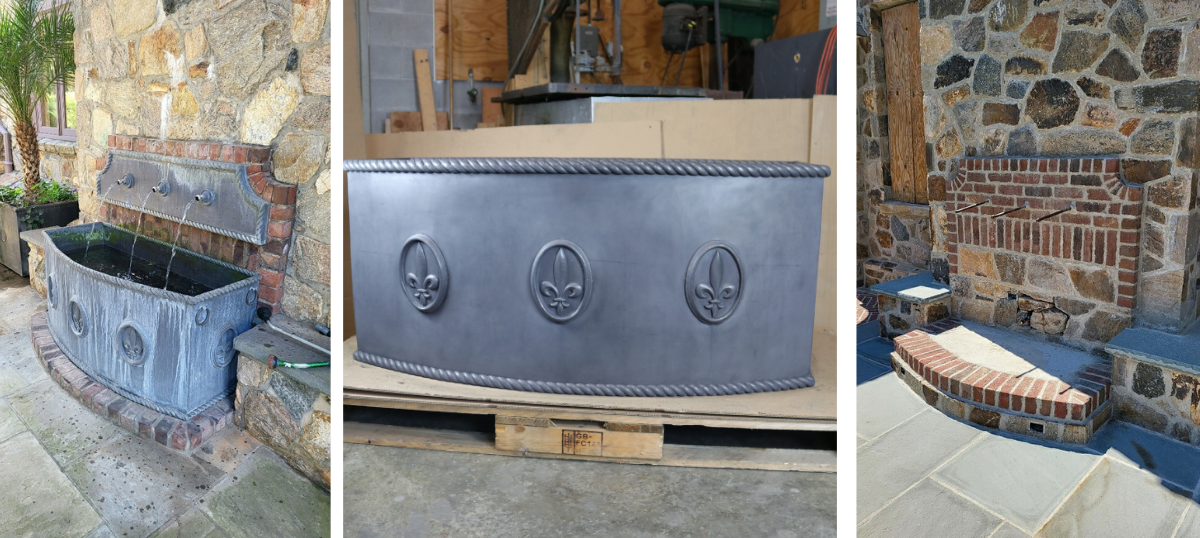 Left: Original cistern on the property. Middle: New cistern replica. Right: Location where the new cistern will be installed in the new seating area.
Chess Tables for a Charming Charleston Park
Phillip Simmons Park at Hampstead Square
Phillip Simmons Park in Charleston, South Carolina is named after Phillip Simmons, a blacksmith who specialized in crafting wrought iron pieces for over 70 years in the Charleston area. Simmons passed in 2009, but his legacy lives on in the enduring nature of his ironwork. When renovating Phillip Simmons Park, the city approached our team for several sets of handicap accessible chess tables that can be enjoyed by park visitors. The goal of adding chess tables was to designate an area for gathering and enjoyment in the park. These tables are the first outdoor chess tables to be installed in the City of Charleston.
Designed in collaboration with the City of Charleston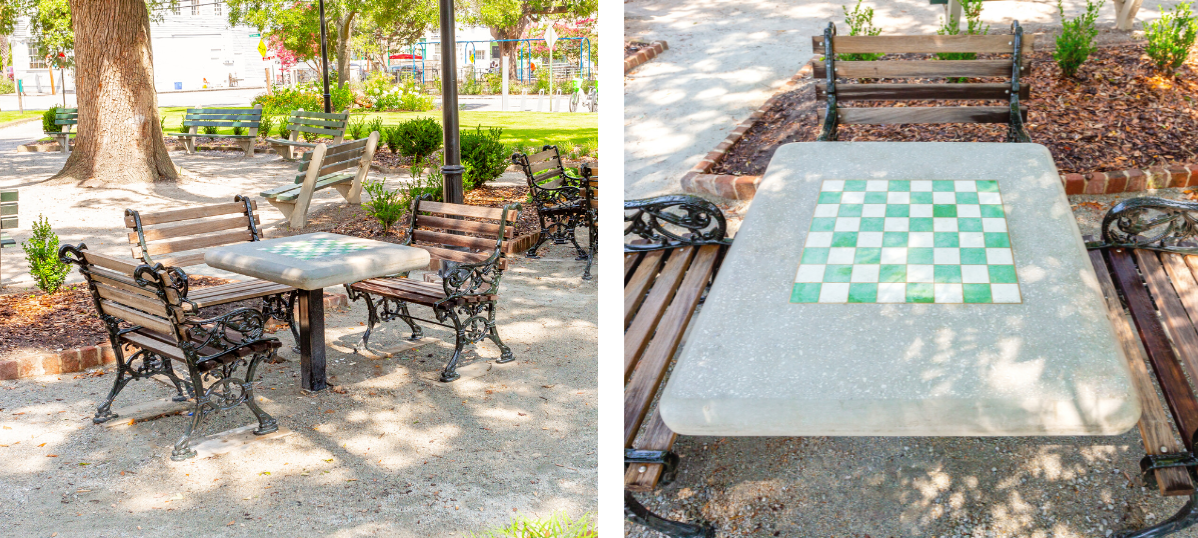 Concrete Chess Tables (Item 466C)

Photography by Kenny Reed
Cast Stone Lanterns

Private residence in Essex, CT

The homeowners in the historic town of Essex, Connecticut contacted our team searching for the perfect garden ornament and they were pleased to find two lanterns which suited their aesthetic and fit well within their smaller garden space. The Cast Stone Tall Japanese Lantern and Japanese Lantern were added to their private garden in August 2022. We are happy the homeowners will be able to enjoy these cast stone pieces year round!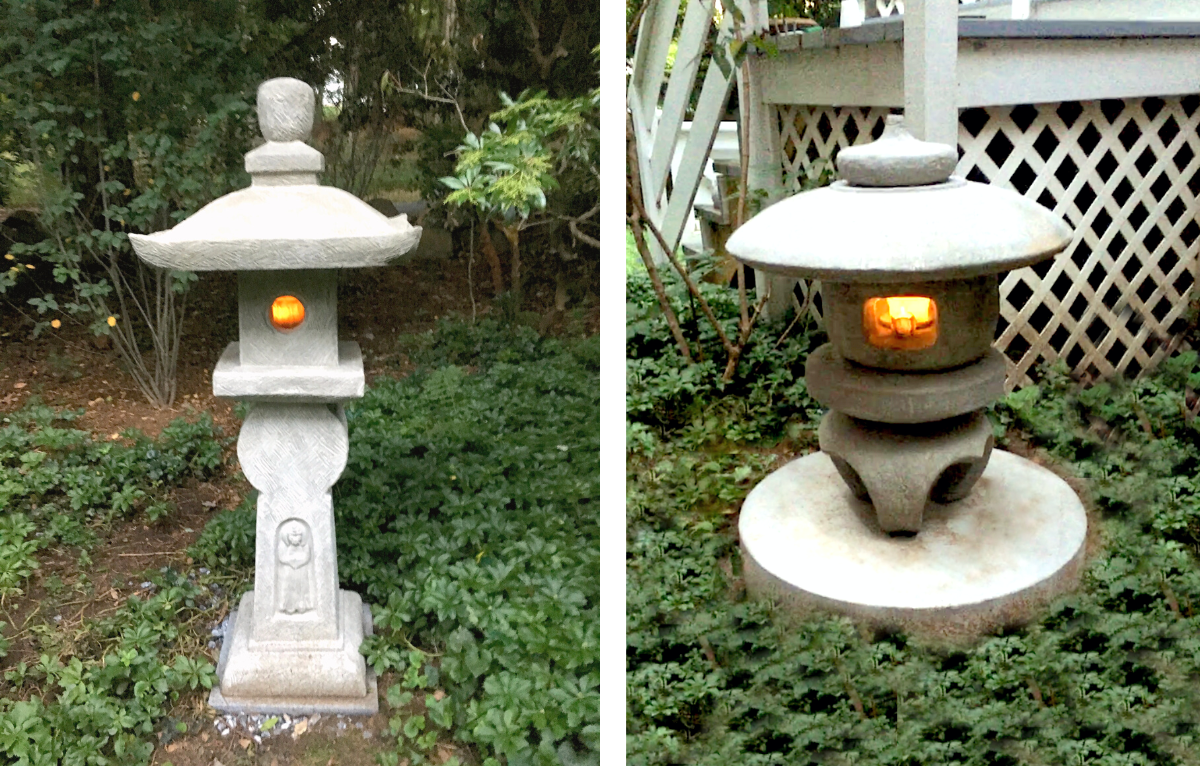 Cast Stone Tall Japanese Lantern (Item 1178) and Japanese Lantern (Item 305)


Dolphins with Twisted Tails Wall Fountain
Private Residence in Houston, TX
The classic motif of the dolphins with intertwined tails is the centerpiece of this large wall fountain with a wide lead shell and lead rosettes on the border of the wall. The landscape architect working on this design at a private residence took our standard design of this fountain and adjusted the shape and size to fit the garden wall, including adjusting the arc at the top of the fountain and adding the overflow bowl.
Design by: Heath Thibodeaux of HJT Landscape Architects, LLC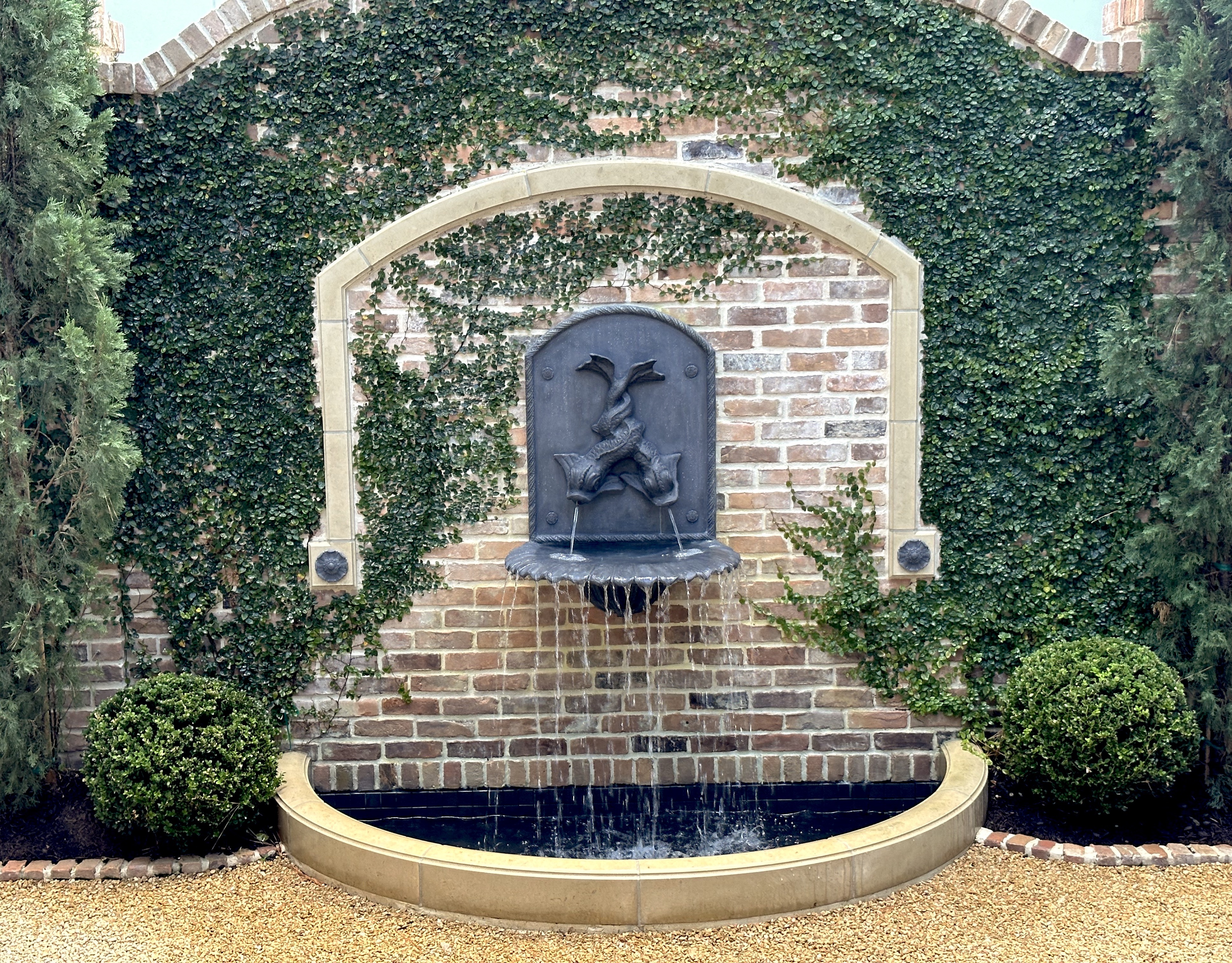 Dolphins with Twisted Tails Wall Fountain (Item 2062B)
Custom Dining Set
Private Residence in Ridgefield, CT

The homeowner and our design staff collaborated on creating the perfect size table arrangement for this client's private residence. They envisioned a table that would seat four people with the flexibility for additional seating as needed. Our team worked with the homeowner to add two additional chairs with matching side tables, which could double as ottomans to create more of a lounge setting. The client reports it is his favorite place to have morning coffee and read the news!

Neoclassical Round Table with Glass Top (FC74) and Lattice Arm Back Chairs (FC37)




We want to take this moment to thank our clients, old and new, for choosing Kenneth Lynch & Sons for their projects.
We look forward to working together well into the future!


Explore More

View all outdoor furniture in our Florentine Classics Collection
View our garden elements in our Estate Elements Collection