Central Park is one of the largest and most famous urban parks in the world welcoming millions of visitors each year. Famously designed by Frederick Law Olmsted and Calvert Vaux in the 1850's, Central Park combines natural elements with classic architecture over its 843 acres in the heart of Manhattan. Due to its historical significance, it has been designated a National Historic Landmark (1963) and was placed on the National Register of Historic Places (1966). As we look forward to the Olmsted 200 coming up next year in 2022, we are excited to highlight one of Olmsted's most famous accomplishments and one of our favorite American parks.
Kenneth Lynch & Sons has its own history with Central Park along with the New York City Parks Department. The story begins with our founder, Kenneth Lynch, who worked with New York Parks Commissioner Robert Moses in 1936 to design and produce a new bench design for the 1939 World's Fair. This iconic bench design is also widely used throughout Central Park today, and Kenneth Lynch & Sons has continued to be a preferred manufacturer of the bench due to our accurate reproduction of the original design. In addition to the 1939 World's Fair Bench, Central Park also carries the original Central Park Settee and the Concrete and Wood Bench, all of which are also produced by Kenneth Lynch & Sons today.
Due to our long history with the New York Parks Department and our company's continued production of today's iconic benches of New York City, we'd like to highlight the history of Central Park through photographs - and showcase that while many things change, some stay the same.
Featured Image Photo Credits: Top image by @ashleysefcik. Bottom image by @usa_then.and.now.

1856

This topographical survey, dated June 17th, 1856, shows the land of what would become Central Park. In 1858, Frederick Law Olmsted and Calvert Vaux's "Greensward Plan" won the competition what what would become the official design New York City's Central Park.

Source: New York Historical Society
1894

In December of 1858, Central Park Lake opened for its first winter of ice-skating. This photo shows ice skaters during the winter of 1894 seated on an original Central Park Settee, a design used during the creation of Central Park under the direction of Olmsted and Vaux. Kenneth Lynch & Sons reintroduced the production of this original design in 1994 and we continue to produce the Central Park Settee to this day. The classic look of the Settee is completed with black iron parts and the lumber painted Central Park Green. The skating rink on Central Park Lake was officially closed in 1950 to allow for the peaceful inhabitation of wildlife.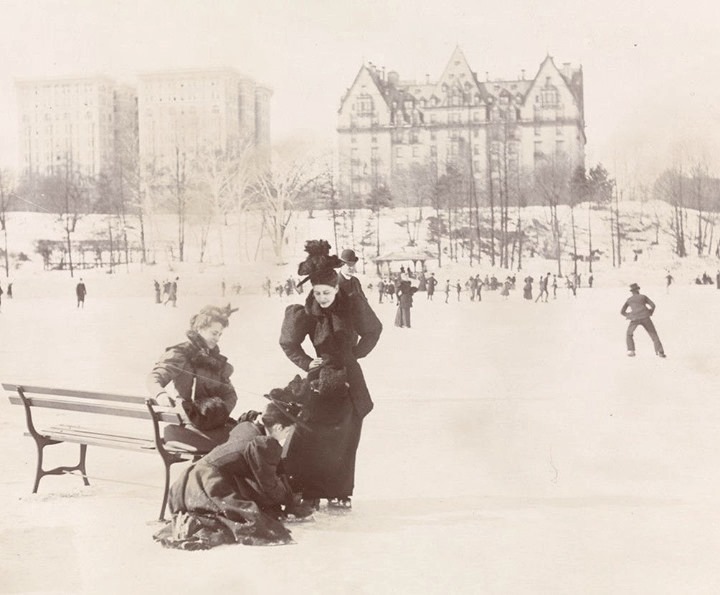 Source: @urbanarchiveny
1896

This painting displays people gathered for a concert at the Central Park Bandstand, also known as the Music Pavillion. This venue was originally built in 1862 and free Saturday afternoon concerts would draw over 45,000 people on a nice summer day during the late 19th century. In 1923, it was decided that a larger venue would be needed and it was rebuilt and renamed the Naumburg Bandshell. You can spot the Central Park Settee depicted in the painting.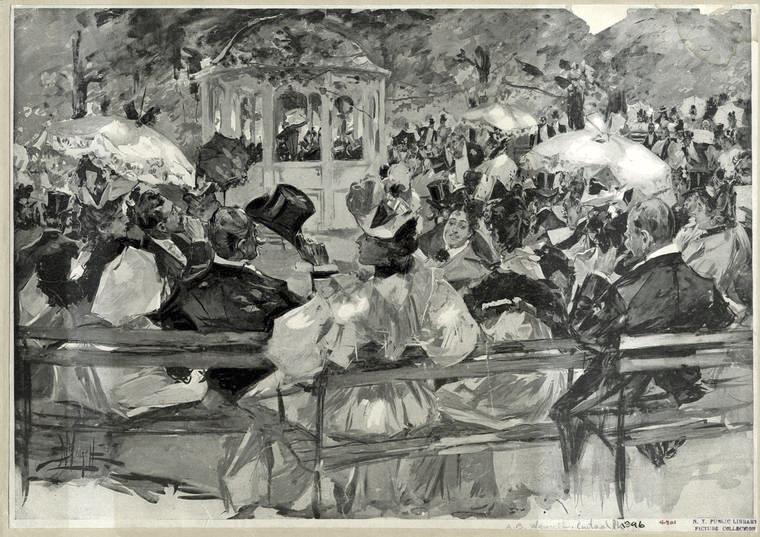 Source: The New York Public Library Digital Collections
Early 1900's

By the 1900's, attendance was at its peak at Central Park. Families and working-class New Yorkers started to advocate for an expansion of recreation facilities, such as playgrounds and ballfields. In the images below, you can view the Central Park Settee lining the walkways and being enjoyed by Central Park visitors, providing an opportunity for the park goers to take a seat and enjoy the afternoon's ambiance.

Source: The New York Public Library Digital Collections. Left: Saturday Afternoon in Central Park. Right: Postcard of Scene in Central Park.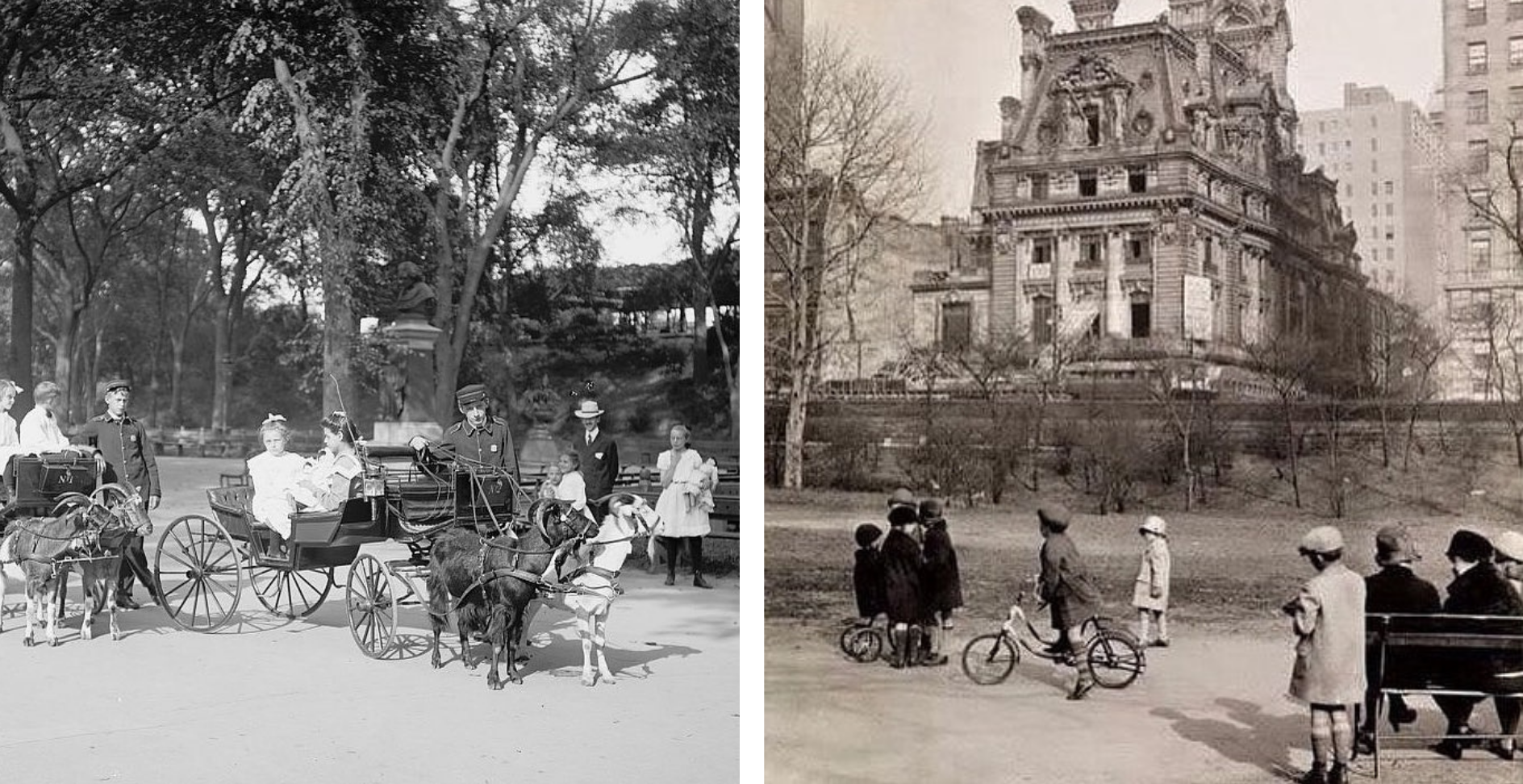 Left: Goat carriages in Central Park, New York in 1904. (Source: @insta.historian) Right: Children playing at Central Park, with the Clark mansion in the distance, circa 1910. (Source: @history_newyork).

1930's and 1940's

In 1936, Mr. Kenneth Lynch became involved in the production of benches for New York City during the planning for the 1939 World's Fair. Kenneth Lynch worked closely with Robert Moses, the New York Parks Commissioner at the time, to create a design that would maximize comfort and to take advantage of manufacturing processes. The iconic 1939 World's Fair Bench, with its hoop armrests and curved seating, was then installed widely across Central Park and is used in several other parks across the country designed by Fredrick Law Olmsted.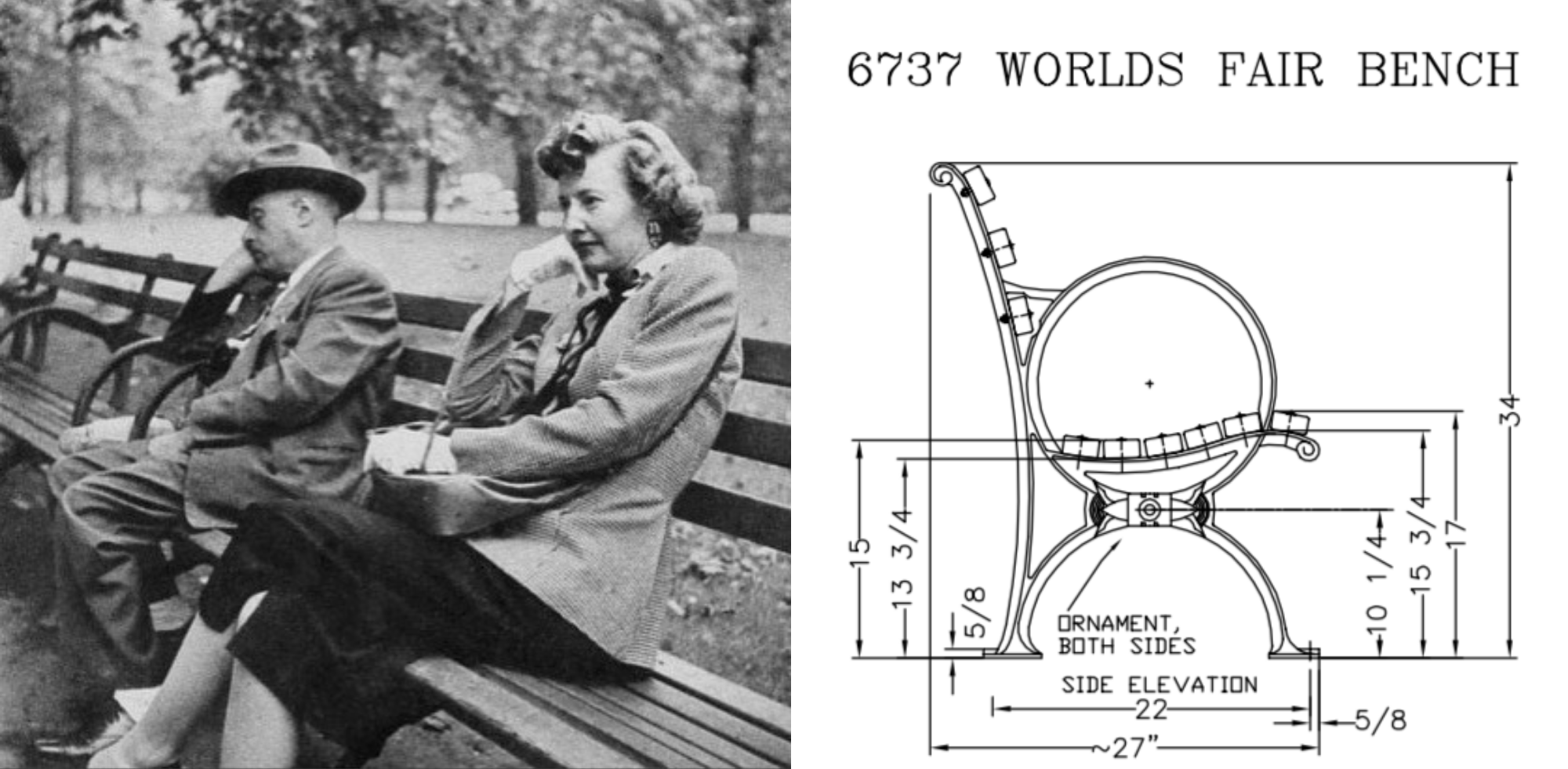 Left: Barbara Stanwyck people watching in Central Park in 1946 (Source: @vintagemoviestars)

Mid-1900's

By the mid-1900's, the Wood and Concrete Benches were also developed and installed in Central Park. This classic Concrete and Wood Park Bench can be found along the perimeter of the park, lining the sidewalks against the stone walls and is still produced by Kenneth Lynch & Sons for various parks across the country.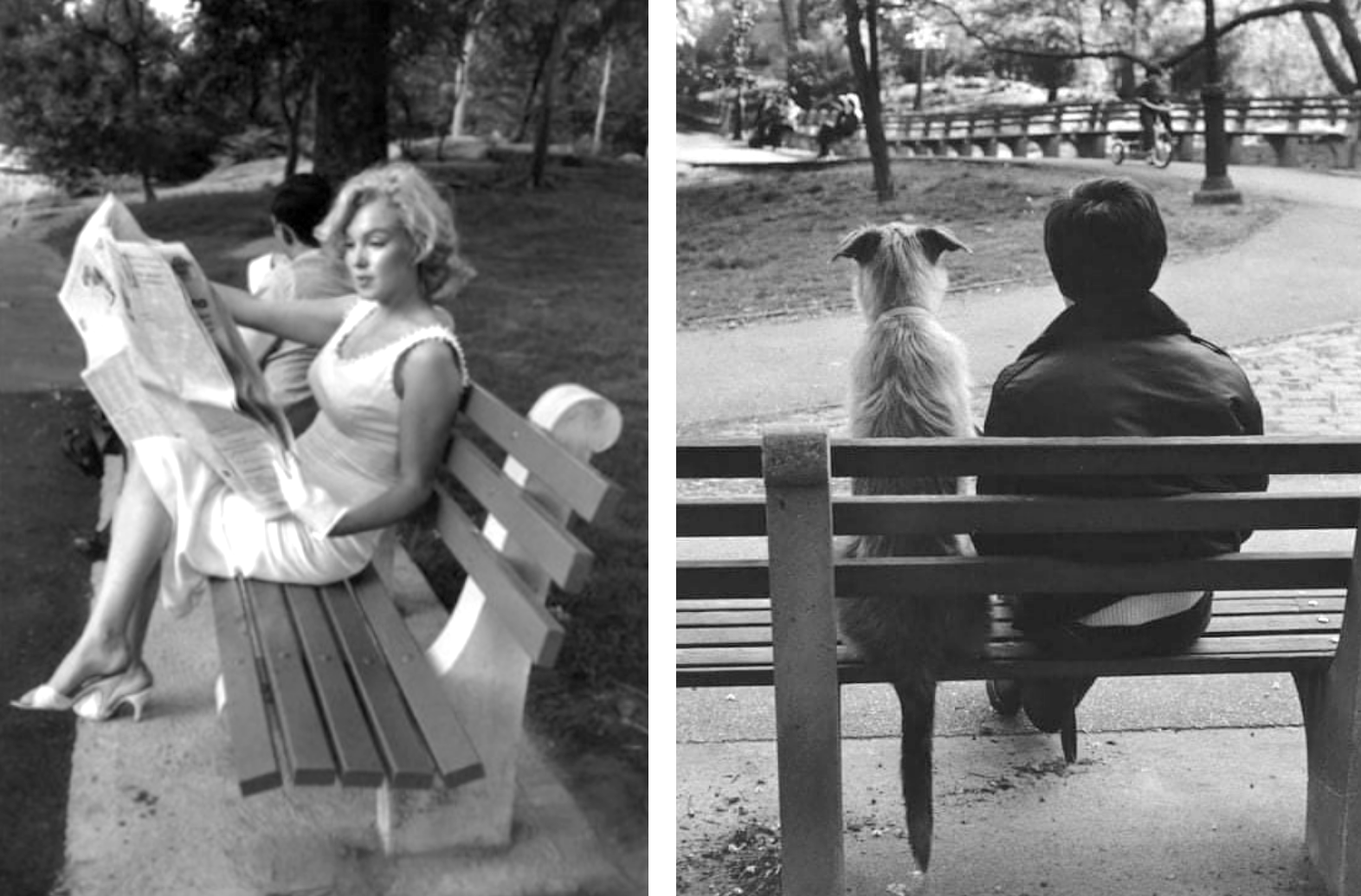 Left: Marilyn Monroe on a Wood and Concrete Bench in Central Park in 1957. (Source: ArtNet.com) Right: Man and dog on Central Park Bench, 1977. Elliot Erwitt. (Source: @vistavizyon)

Present Day

For over 150 years, visitors, travelers, and the people of New York have come together and gathered in the heart of Manhattan. Central Park is a special part of New York, a place that brings together millions of people each year and one of the greatest icons of American culture.
We encourage you to take a visit to Central Park and enjoy its beauty from one of our benches! The park is open 365 days a year and there is something striking about every season. Kenneth Lynch & Sons is proud to be a long-time partner of the New York City Parks Department and the supplier of not only benches - but decades of special moments, memories, and history.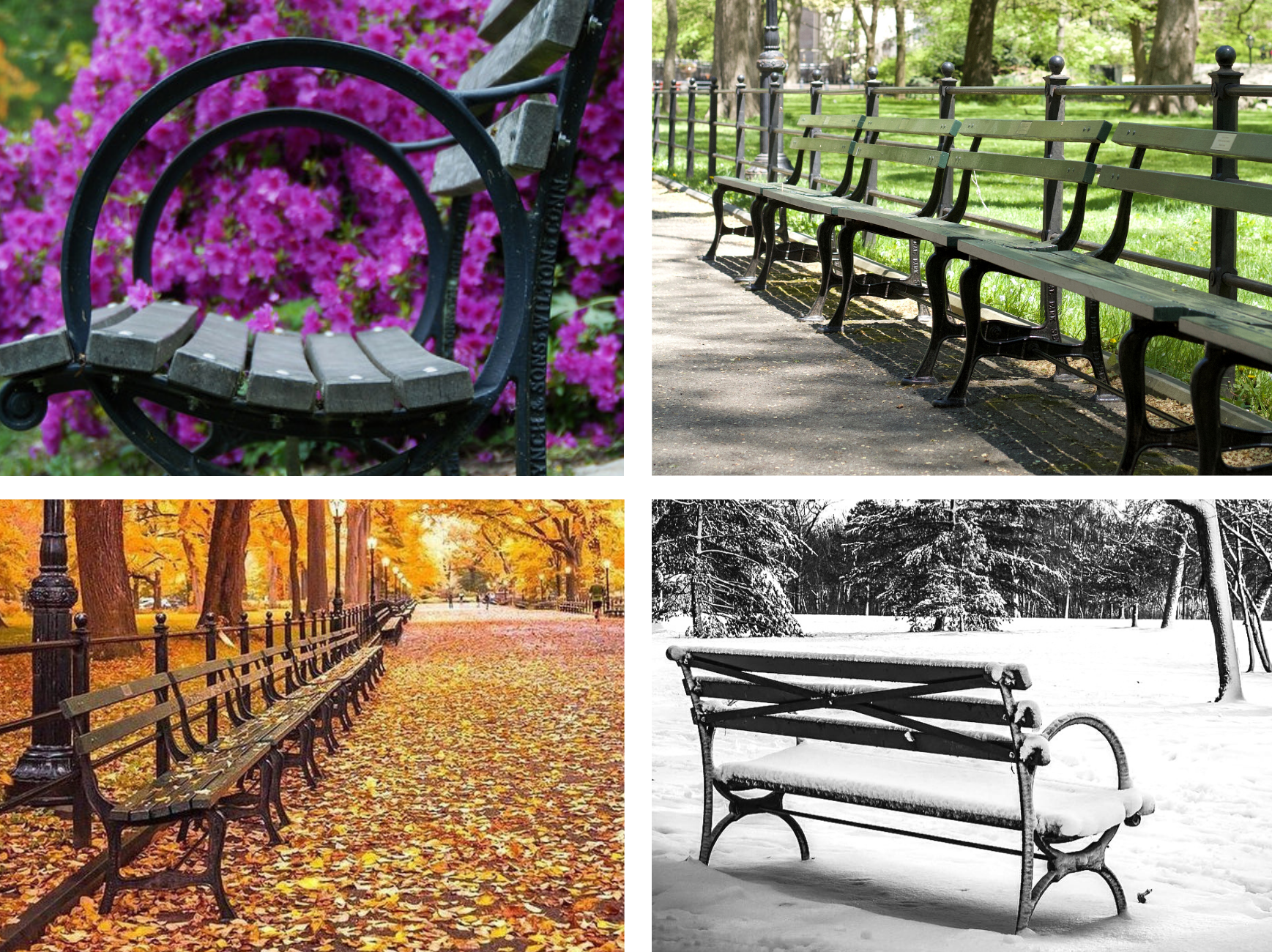 Photo credits in order of seasons: Spring by Kenneth Lynch & Sons, Summer by Kenneth Lynch & Sons, Fall by Sidney @212sid, Winter by Kim @after_the_snap.
Learn More
View our Urban Seating Collection
Read more about our benches in "How Kenneth Lynch Shaped the Benches of Central Park"