What better way to enjoy the calmness and quiet rhythms of nature than from your own outdoor sanctuary? Our gardens offer a sheltered place to relax, unwind, and renew – always important but especially so during challenging times. Now is the perfect time to start planning to create the ultimate outdoor sanctuary for the summer months ahead. Here are some tips to consider when planning your outdoor space.

1. Create outdoor rooms with furniture
To get the most enjoyment and use from your outdoor space, plan to carve out areas to relax, converse, and dine. Choose furniture that will accommodate all your needs – for quiet relaxation, family activities, and entertainment. Our Florentine Classics furniture collections offer dining and lounge pieces that withstand the test of time both in durability and style. In our experience, adding a pop of color (and comfort) with seat cushions is always a great idea, and we provide many custom cushion options to make it your own.

Pictured: Neoclassical poolside seating (left) and Cushioned Grand Seating and Dining Table and chairs in the distance.
2. The soothing sound of a fountain
Aside from the beautiful aesthetic, one of the best features of fountains is the soothing sounds that allow us to relax and truly enjoy the outdoors. If you have a larger space, we recommend adding a freestanding fountain as a key focal point to be enjoyed from many angles. Surrounding a classic tiered fountain with flowers adds a special touch. If you are working with a smaller garden area, you can incorporate a wall fountain that does not take up much space while still providing a relaxing atmosphere. An added bonus is that fountains mask traffic and other unwanted sounds, ideal for creating a private oasis in urban settings.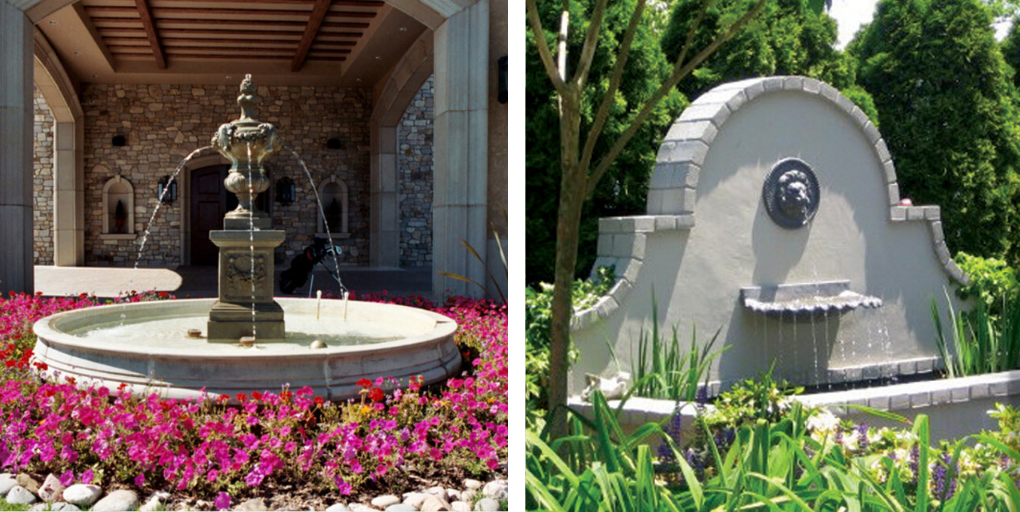 Pictured: The Elegant Finial Fountain (left) and Wall Fountain with Lion Mask (right).
3. Statuary adds an artistic focal point
A classic way to bring character, life, and an artistic ambiance to your outdoor space is to add statuary. Whether providing a unified, strong focal point, to add a subtle flourish to complement your garden space, or to provide classical symmetry - statuary will elevate your outdoor space to a higher level. You will find that our Estate Elements collection includes beautiful, detailed pieces of all styles, shapes, and will provide a welcome addition to any outdoor space.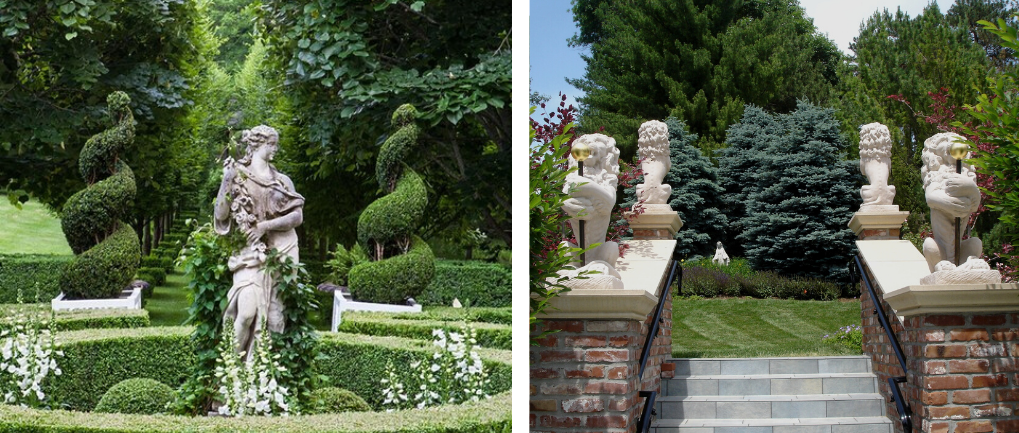 Pictured: Four Seasons Statue as a focal point and Lion statuary providing symmetry in the garden.
4. Enjoy the view from a garden bench
A great way to establish a welcoming ambiance in your outdoor space is to add strategically placed benches. Benches help create an inviting space and a perch from which you can enjoy your garden and can double as a way to help enhance walkways.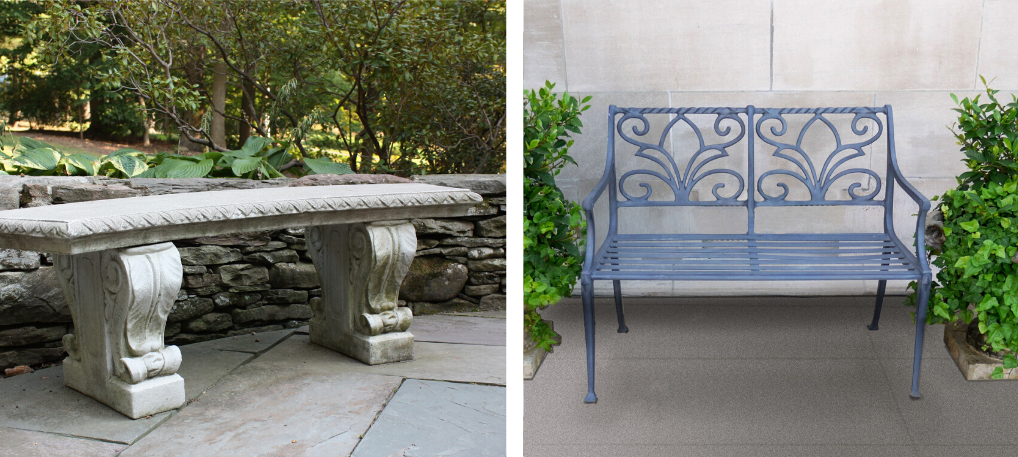 Pictured: A cast stone garden bench lining a pathway (left) and enhancing a walkway (right).
5. Add a flourish with urns and planters
Finally, the icing on the cake of your outdoor space are your plants and flowers. Urns and planters are the perfect way to add floral focal points and soothing accents to your outdoor living areas. Our urns and planters come in a variety of styles, shapes, materials, and sizes and are sure to add the perfect finishing touch. Whether tabletop, integrated within the garden, or elevated on a pedestal, they can be enjoyed throughout the seasons.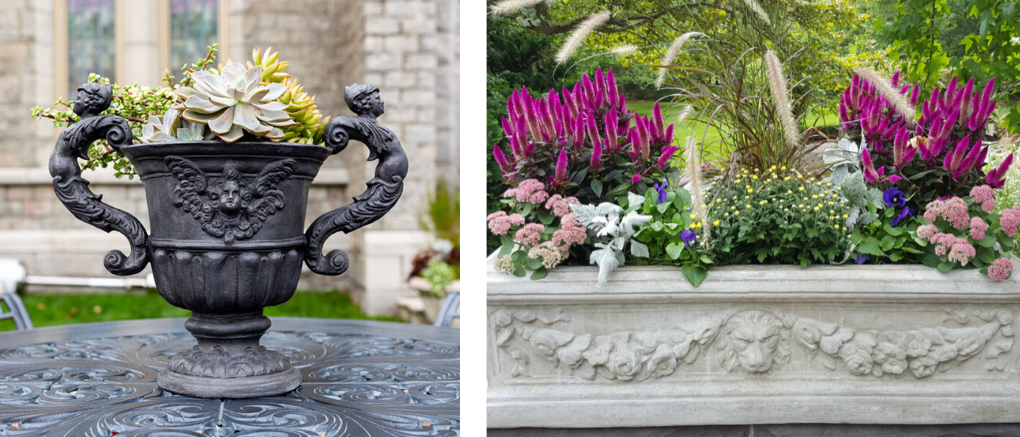 Pictured: The Lead English Vase with Cherub handles and Rectangular Lion Planter (right).

Explore Florentine Classics Outdoor Furniture
Explore Estate Elements Statuary, Fountains, and more