Our gardens provide a quiet retreat as well as a welcoming environment for outdoor entertaining. It's no wonder that we spend season after season toiling, primping, and investing in our outdoor spaces. As you begin your spring clean-up and make plans for new additions to your garden's landscape, we invite you to explore our collections of garden ornamentation and furniture that will add charm and a personal touch to your garden this spring.

1. Birdbaths
Birdbaths are a great way to add life to an empty corner or create a new focal point in a smaller garden space. The running water creates an inviting environment for many bird species and wildlife, attracting fauna to the flora to complete the garden environment. Birdbaths provide the same natural and calming element as a fountain without requiring as much space. Our birdbaths come in a variety of styles and can be made of cast stone or aluminum, providing a beautiful focal point for any garden.
View all birdbaths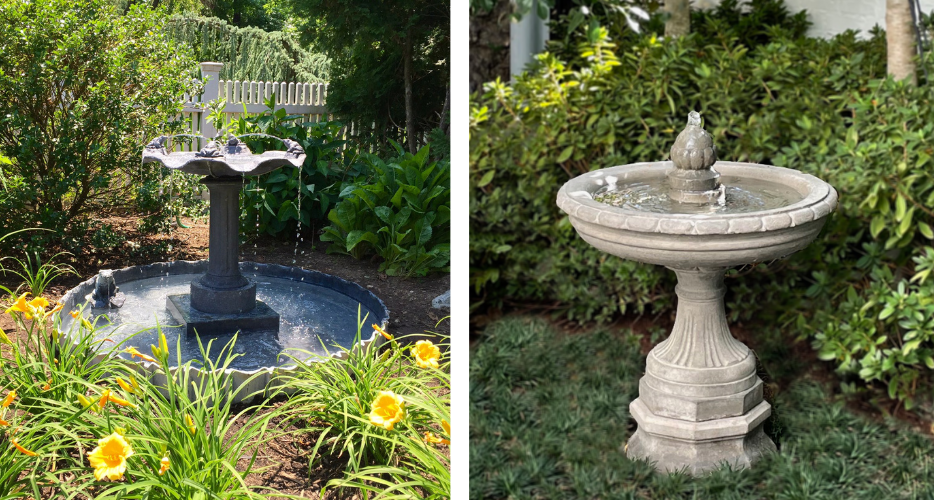 Left: Four Frogs Birdbath in natural lead. Right: Cast stone Classic Birdbath with finial.
2. Small Statuary
Statuary adds charm and personality to a garden, and even the smallest additions make a big difference to the outdoor space. Small animal statuary, like cast stone rabbits or snails, add a whimsical element to the garden and create a pleasant element of surprise when discovered in a flower bed or along a garden path. Meanwhile, a beautiful figure like the La Brezza can create an impressive focal point to enhance the garden layout.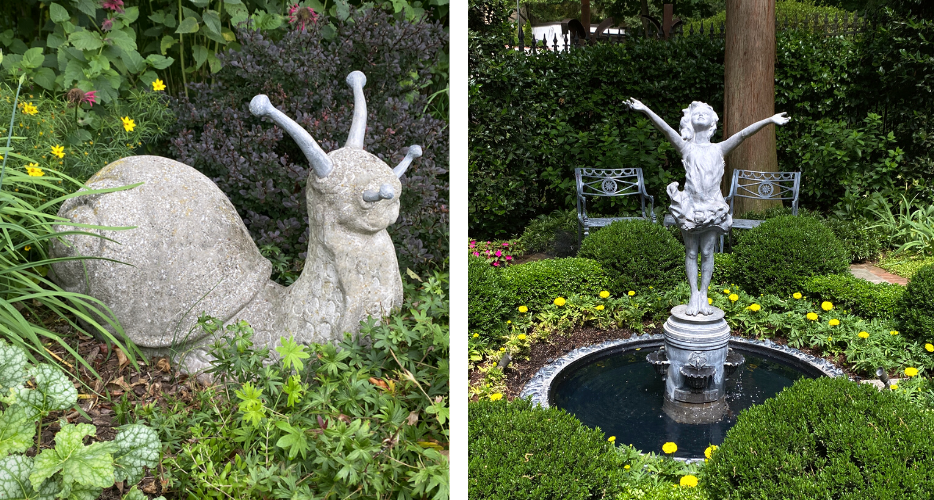 Left: Cast stone Snail with Lead Horns. Right: La Brezza in a beautiful garden fountain, also available as a stand alone piece.
3. Sundials
Sundials are a classic element in the garden that have withstood the test of time. Often placed on a pedestal, sundials can add dimension and help anchor surrounding elements in a garden. Our sundials are available in a flat horizontal design, or as an armillary sphere composed of a set of interlocking metal rings, referred to as "armilla" in Latin. Many designs include beautiful detailing like the Signs of the Zodiac, a symbol of Father Time, or engraved mottos adding a striking focal point in the landscape.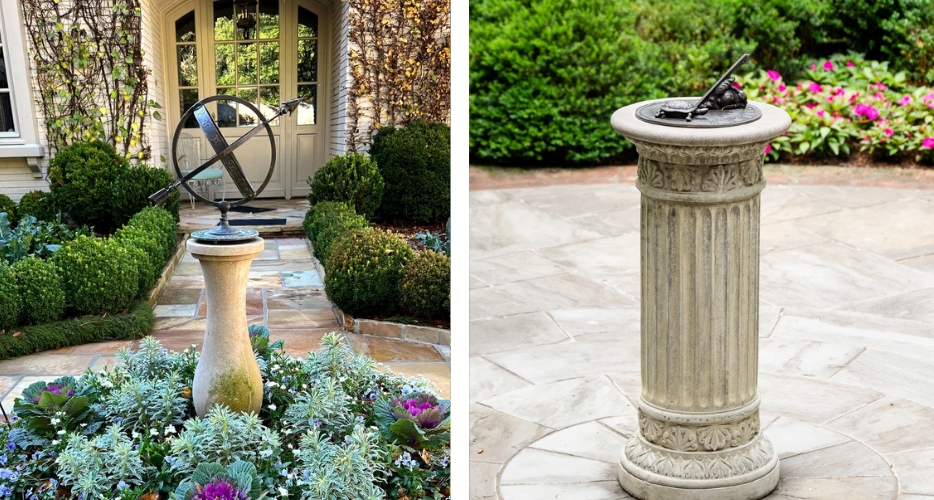 Left: Classic Armillary Sundial in garden designed by Richard Anderson. Right: Hare and Tortoise Sundial on a cast stone Fluted Column with Acanthus Motif.
4. Planters

A practical way to enhance our gardens and add visual interest is by incorporating planters, urns, and cisterns to our landscapes. Most plants and flowers will naturally grow low to the ground, so planters and urns will help create dimension by allowing for variation in height in the garden area. Our planters and urns are designed with intricate detail perfect for a classical garden. Meanwhile, cisterns which were historically used to capture rainwater are now primarily used as decorative elements to enhance flower beds. Our team creates custom cistern designs based on client needs, so your own idea can be brought to life in your garden!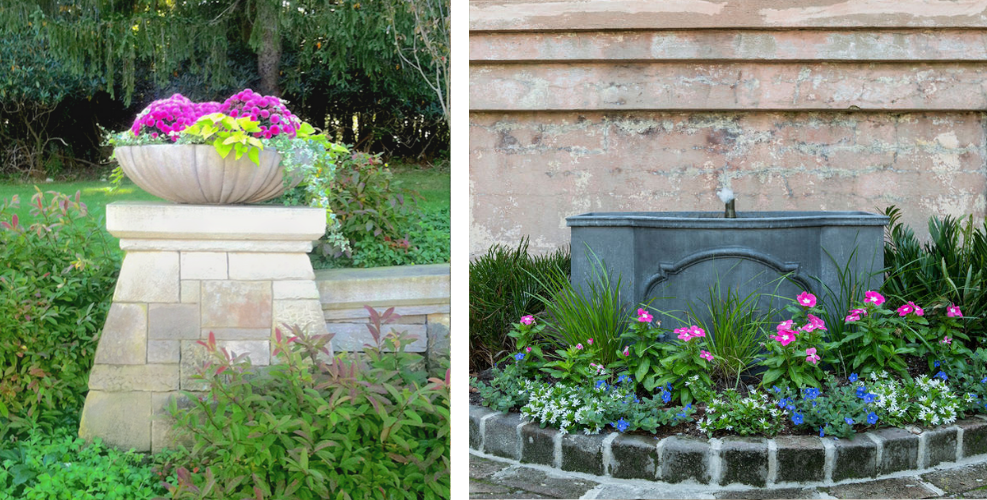 Left: Cast stone Linen Fold Planter. Right: Lead Cistern with custom sizing available.
5. Garden Seating
What could be more lovely than a quiet place to sit and enjoy our beautiful gardens on sunny spring days? Garden seating will help create a welcoming ambience to your outdoor space and can also help enhance walkways and garden paths. Our collections include cast stone garden benches as well as a variety of intricate cast aluminum seating to work with any garden style. Add a pop of color with a beautiful set of cushions, sit back, and enjoy!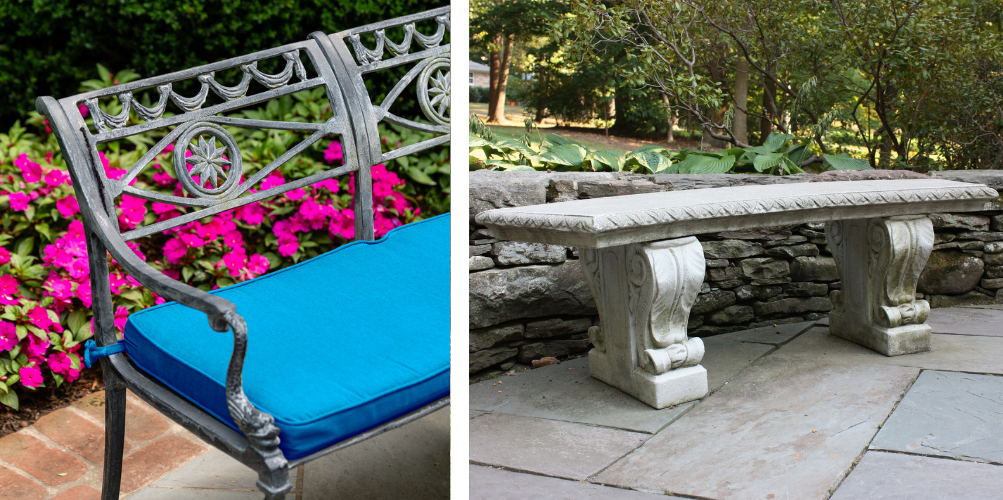 Left: Star and Dolphin Double Settee with custom cushion. Right: Classic Curved Garden Bench in cast stone.
Explore more

View our Quick Ship inventory of products available for immediate shipment.
View the Estate Elements Collection for statuary, fountains, and furnishings for your garden.
View the Florentine Classics Collection for classically designed fine garden furniture.
Interested in placing an order? Contact [email protected]